REACTOR CONFIGURATION
The reactors can suck in gas automatically from the environment, a gas reservoir or from the headspace. In case of very high gassing rates or for the generation of circulating flows, the introduction of special reactor internals may become necessary. A frequently used variant is the installation of a coaxial guide tube, so that the reactor can be operated as an air-lift-loop reactor.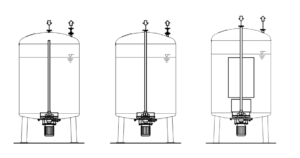 As additional equipment, our FOAMEX foam centrifuges allow safe and efficient operation even if it is disturbed by foam.
Very large reactors are usually operated with blower support to further increase the energy efficiency. Even if the combination of a self-aspirating turbine and a pre-pressure blower increases the complexity of the apparatus, this often pays off due to the lower power consumption. Operation with blower or compressor support is obligatory if the reaction itself takes place under pressure.